Device Administration
Test: Cts Verifier > Device Administration > Device Admin Tapjacking Test
com.android.cts.verifier.admin.tapjacking.DeviceAdminTapjackingTestActivity
The test is open to interpretation if it behaves as expected or not. Buttons can be tapped through the overlay but maybe produce an unclear description.
The button to activate the admin should be disabled and should not register any taps.
It isn't possible to activate the device admin app but a toast is shown Because another app is displaying on top of these options, Settings can't respond to your action. Hence, the tap is registered and it is still possible to tap cancel and press Uninstall app.
Below are the expected results for Step 3.
| | | |
| --- | --- | --- |
| | | |
| 3. Tap [ENABLE DEVICE ADMIN] | 3.1. [Active this device admin app] is enabled. | 3.2. [Active this device admin app] is disabled. |
Companion Device Test
The companion device test is com.android.cts.verifier.companion.CompanionDeviceTestActivity.
It may be unclear if the test has finished correctly after selecting the device in the list and pressing OK.
See below for the expected results.
| | | |
| --- | --- | --- |
| | | |
| 1. Tap [GO] | 2. Tap a BT device | 3. Tap [Pass] |
Voicemail Broadcast Test
The voicemail broadcast test is com.android.cts.verifier.voicemail.VoicemailBroadcastActivity.
To send a voicemail to the phone, call the device, decline the call on the device, and leave a voicemail.
A visual voicemail is a way to send the device audio data and detailed information for incoming voicemails, instead of just sending the Message Waiting Indicator** (MWI) SMS.
The test is testing behavior regarding receiving the MWI, and if visual voicemail is being used, the carrier might not send the MWI and interfere with the test, thus it must be disabled.
USB Accessory/Device Test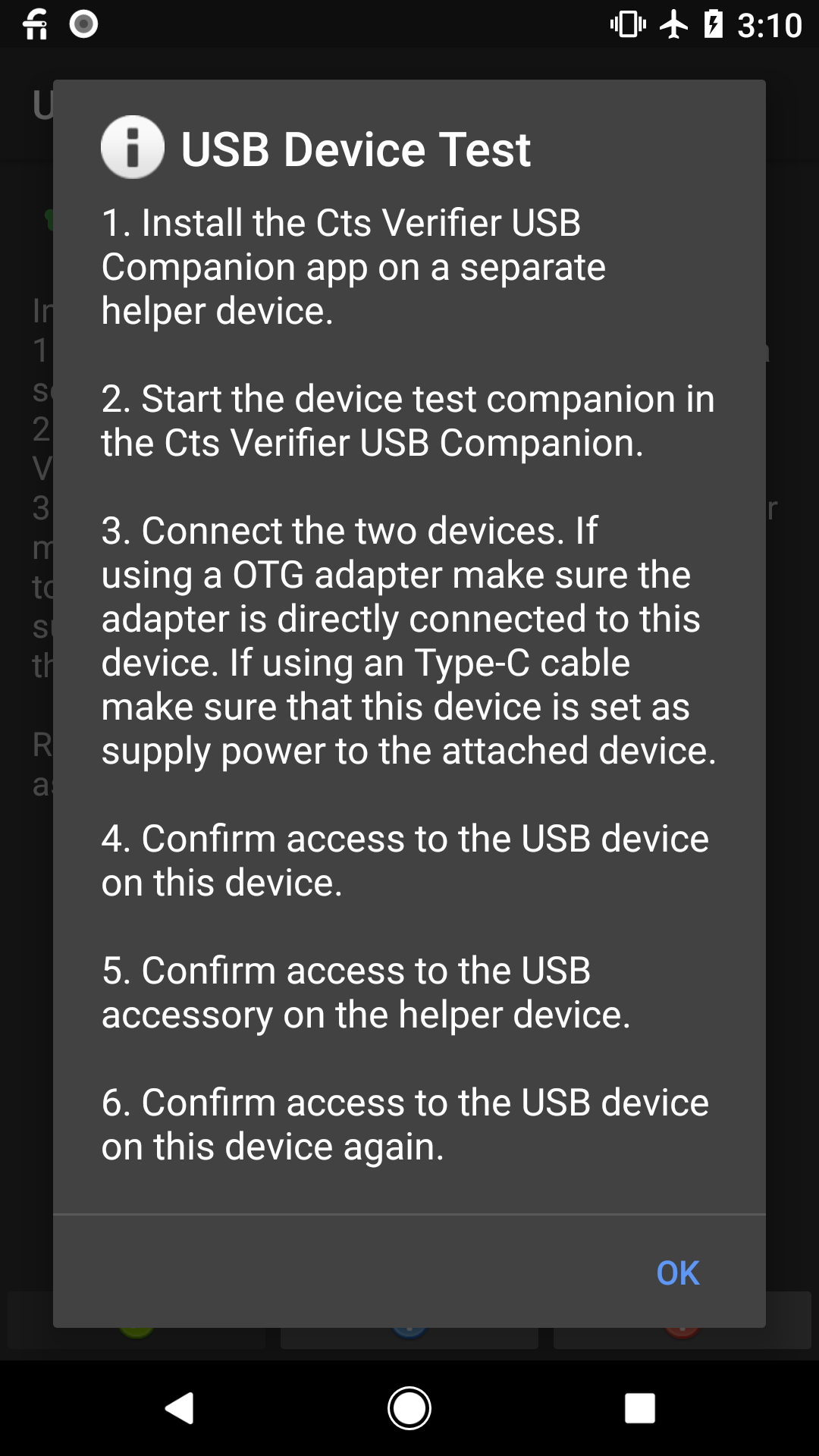 Specific instructions to avoid flaky behavior:
Install the CtsVerifier.apk on the DUT
Install the CtsVerifierUSBCompanion.apk on the Pixel
Make sure all USB cables are disconnected
Start the CtsVerifierUSBCompanion on the Pixel and select the accessory test companion
Start the CtsVerifier on the DUT and select the USB Accessory test
Connect the OTG-Adapter to the Pixel and then connect the DUT via a USB-A(male)-C cable
Approve the connection dialogs in the following order:

Pixel
DUT
Pixel
Wait until test completes
Dynamic Sensor Discovery Test
Device makers can make a decision if to support the API (isDynamicSensorDiscoverySupported) or not.
If a device supports the API, device maker is responsible for sourcing the external sensor for passing the test.
Device Admin Uninstall Test
May require to manually install CtsEmptyDeviceAdmin.apk on the device first from a host via adb.
For example, adb install CtsEmptyDeviceAdmin.apk.
Use CTS Verifier > Device Administration > Device Admin Uninstall Test.
It should detect that the app is installed and go through other steps.